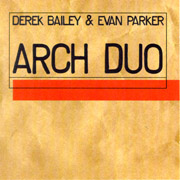 DEREK BAILEY/EVAN PARKER: Arch Duo

Derek Bailey: electric and acoustic guitars, voice
Evan Parker: soprano and tenor saxophones
This long-awaited release contains their entire 70+ minute 1980 duo performance at the legendary 1750 Arch Street in Berkeley, California. Bailey plays both electric and acoustic (and breaks a string mid-performance; see if you can tell where!) and Parker plays both soprano and tenor saxophones. This is their first duo release since 1985, and their first release by an American label. An important and historic recording.
Tracks:
One: 12:23
Two: 11:46
Three: 16:51
Four: 16:02
Five: 13:23
(The concert is heard in its entirety. The index numbers have been added for convenience only.)
Recorded October 17, 1980 by Robert Shumaker. Mastered by Myles Boisen/Headless Buddha Labs. Photo by Mark Weber (from the Los Angeles concert of the same tour). CD design and layout by Steve Norton/Red Notebook, with type by Michael Cina.
Click here to see the alternate set of artwork.

Copyright © 1999 Rastascan Records. All rights reserved. Updated April 17, 2013