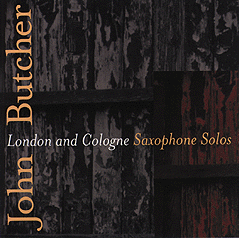 JOHN BUTCHER: London and Cologne Saxophone Solos
John Butcher: saxophones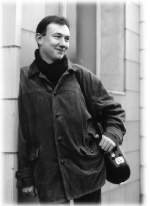 Recent live and studio recordings from Britain's master of extended saxophone sounds: from quiet insect noises to the scree of early tape and concrete musics.
1. Some kind of memory (09.31)
2. A thing or two (13.34)
3. Shrinkdown (07.34)
4. Almost secret (06.09)
5. Continuo 8 (06.00)
6. Schism (02.52)
7. Our man in Acton (05.08)
8. Close to reason (04.13).
All of the tracks are concert recordings except for Shrinkdown, which is a studio improvisation against a tape of four untreated, amplified soprano saxophones. "Some kind of memory" and "A thing or two" recorded at SoundArt 96, Conway Hall, London on March 23, 1996; "Shrinkdown" recorded at Dave Hunt Studios, London on April 12, 1996 (tape realised at Pathway Studios, London on March 1, 1996); "Almost secret" recorded at The LMC Day, ICA, London on November 12, 1995; Continuo 8 recorded at Random Acoustics Evening, Loft, Köln on October 21, 1994; All other tracks recorded at A.I.M Concert, Loft, Köln on September 2, 1995.
Cover design by Lucija Kordic.
"Highly accomplished and strikingly original." --Penguin Guide to Jazz on CD