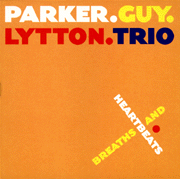 PARKER . GUY . LYTTON TRIO: Breaths and Heartbeats
Evan Parker: soprano and tenor saxophones, percussion
Barry Guy: bass and piccolo bass, percussion
Paul Lytton: drums and percussion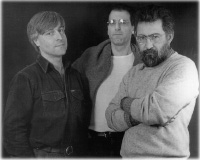 Excerpts from the liner notes:
"The music presented here was recorded in one day. We worked in three blocks of time: the first session was with saxophone, bass, and drums. Nine pieces were played. The second session was for the percussion interludes, the "breaths" of the titles - here we used orchestral percussion instruments, rattles, shakers, and gongs in addition to Paul's usual kit. Around twenty short pieces were recorded. In the third session we again played the usual saxophone/bass/drums music of the trio...
"The editing that has been employed in this work is more akin to film editing, perhaps better termed montage, where the sequencing of takes is arrived at in a process separate from the filming but where the integrity of each take is determined in real time...
"This shaping of the final form, by decisions made after the playing is finished, is an inevitable part of recording and something which distinguishes it from pure performance. My usual approach is to present the pieces in the sequence they were played. This CD is different." -- Evan Parker
Digitally recorded 3 December, 1994 at Gateway Studios, London, England. Recording Engineer: Steve Lowe. Assitant Engineer: Ray Matthews. Layout/design: Lucija Kordic.
"...hearing it, you'll recognize why this group is perhaps the premeir working ensemble in free improvisation." --John Corbett, Down Beat * * * * *
"At times, the trio's music is manic, frenzied. At other times, the trio calms down into darker moody pieces full of silences and lazy, lonely notes. Parker, Guy and Lytton take jazz to its limits." --Parabrisas