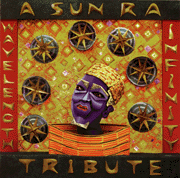 WAVELENGTH INFINITY: A Sun Ra Tribute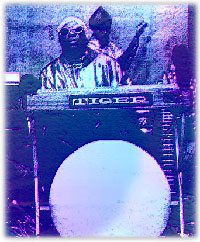 Wavelength Infinity is a two CD tribute to that influential jazz-spaceman Sun Ra. Proceeds from the sale of the disc go to the surviving members of the Arkestra, Sun Ra's band for over three decades.
This CD is a testament to the major influence that Sun Ra has had on musicians in both the jazz and rock worlds: his unique electronic explorations as well as his inventive orchestrations remain fresh to this day. In addition to his profoundly influencial music, Wavelength Infinity includes performances of Sun Ra's poetry and prose, much of it recorded here for the first time (designated with a * ).
Disc 1:
UYA: Dancing Shadows
Charlie Kohlhase Quintet: Kingdom of Not
Kash Killion: Friendly Galaxy
Malcom Mooney: Darkness Light *
Water Shed 5tet: Looking Outward
Trudy Morse & Friends: Energies *
David Greenberger: Sun-Day*
Steve Adams/ Ben Goldberg: Transition
The Residents: Daydream in Space
The Splatter Trio: Tiny Pyramids
NRBQ (with the Sun Ra Horns): Fate in a Pleasant Mood
Art Hoyle: The Name Sound *
Elliott Sharp: Disco 3000
Hartmut Geerken: Sunny's Sun Harp
Miss Murgatroid: Nature's Law*
Tom Djll: There Are Other Worlds (they have not told you of) *
Disc 2:
Graham Connah Group: The Satellites Are Spinning
The Billy Tipton Memorial Sax Quartet: Mu
Travis Shook and the Club Wow: Enlightenment
Art Hoyle: The Fantasy *
Vacuum Tree Head: The Call
Dan Plonsey (w/ Gamelan Sekar Jaya): Constellation/The Art Scene *
The Coctails w/ Ken Vandermark: Lights on a Satellite
Eugene Chadbourne/Jimmy Carl Black: Space is the Place
Phantom Radio: The Nile
Eddie Gale / John Tchicai: An Island in Space
Lewis Jordan: Whereness*
BKCP String Quartet: Advice to Medics
Bugs Meanie Band: El is a Sound of Joy
Thurston Moore with Ezra La Plante: Cosmic Equation *
Jon Raskin: Lullaby for Realville
Thornhill / Chabot / Montclair Tri-school Artestra: Planet Earth

"...true to Sun Ra's spirit." --Downbeat * * * * 1/2
"...a distinguished double-disc tribute to the planet's consummate cosmic-jazz explorer." --Jazziz
"...a collection that crackles with invention and surprise." --The Wire
"The 32 tracks are a proper dedication to the music and poetry of the man from Saturn." --SOS Jazz
"Few musicians left as varied a legacy as the late pianist/big-band leader/shaman Sun Ra. Dameronian bebop, swing-era charts, African percussion, free improvisation, electronics, poetry, revival-meeting gospel -- all were part of his astonishing repertoire." --Boston Phoenix
(The rest of this review is available here.)