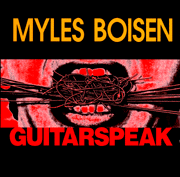 MYLES BOISEN: Guitarspeak
Myles Boisen: guitar, sonics, tapes, electronics, etc.
with guest appearances by:
Dave Barrett: alto/tenor saxophones
Bill Fairbanks: acoustic bass
Bil King:clarinet, cleft ch'in, the board
Ellen Schoenwetter: bass
Fred Frith: guitar
Fred Lonberg-Holm: cello overdub
Gino Robair: drums, marimba, etc.
Kate Johnston: guitar
Kent Randolph: bass, guitar
Kristina Perry:accordion, camera
Len Paterson: bird sounds on tapes
Marc Weinstein: drums
Ralph Carney: alto sax
Richard Coldman: guitar overdubs
Richard Snyder:drums
Tom Djll: trumpet, live sampling, Serge modular
Thomas Scandura: percussion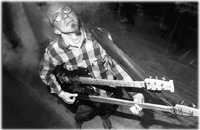 Track Listing
1. Imprint (field recording)
2. Guitar Bisons (Beach Ogres)
3. New Antidub/Lopex 22254 Schoenwetter, Randolph, Paterson, Weinstein, Coldman, Snyder
4. Rockolaw/ Bil King
5. Camera Hidden Backwards In A Hat solo
6. Ruins w/ Gino Robair
7. Toothless Miracle Bend solo
8. Third Grade Regrets w/ Barrett & Randolph
9. Tar w/ Fred Frith
10. Finger Tells A Joke solo
11. Ladakh w/ Gino Robair
12. Bad TV solo
13. See Through w/ Djll
14. Weave Weave w/ Djll
15. Crawling All Overw/ Lonberg-Holms, Robair, Randolph
16. Granules solo
17. She Dreams Splatter Trio & Weinstein
18. The Twist solo
19. Bouki solo
20. Trashman w/ Schoenwetter & Snyder
21. Zzzz I Love You, Man solo
22. Forget w/ Gino Robair
23. Teen Meditation w/ Gino Robair
24. Wounded by Rev Tort w/ Bil King
25. Trial/RRHH w/ Bil King
26. Positive solo
27. Jazz Bait w/ Fairbanks, Barrett, Perry, Weinstein, Carney, & Scandura
28. Pibroch solo
Total Time: 61'08"
"Febrile, unfettered improvisations in which heavy metal nuclei are bombarded by free jazz neutrons." --Guitar Player
"Myles Boisen frets with an agile, dangerous sense of rhythm." --BAM Magazine
More information about Myles Boisen is available here.