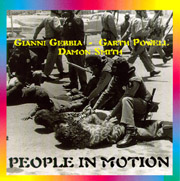 GIANNI GEBBIA/GARTH POWELL/DAMON SMITH: People in Motion
Gianni Gebbia: alto saxophone/megaphone/mallard call
Garth Powell: percussion/whirlophones/berimbau
Damon Smith: contrabass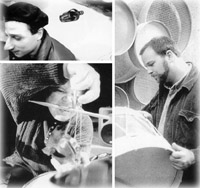 An elegant trio session featuring Sicilian saxophonist Gianni Gebbia with Rituel percussionist Garth Powell and Oakland bassist Damon Smith. This is not your typical horn/rhythm section session date. Each player expands the sound of their instrument in ways that defy description - and make it difficult for the listener to tell who's playing what!
Track Listing
1. All Across the Nation (3:00)
2. In Their Hair (7:16)
3. A New Explanation (8:13)
4. Love In There (4:56)
5. Such A Strange Vibration (3:28)
6. Gentle People (5:31)
7. There's a Whole Generation (8:03)
8. People In Motion (4:58)
9. For Those Who Come (3:09)
10. Bring Flowers (11:02)
Recorded 5/19/98 live to 2-track, all vacuum-tube analog, by Garth Powell at Warren Auditorium, Rohnert Park, CA. Design and layout by Molly Carter.
Gebbia plays a 1961 Selmer Mark 6 alto saxophone with Vandoren Reeds. In addition to this recording, he also has a solo recording on Rastascan: H Portraits.