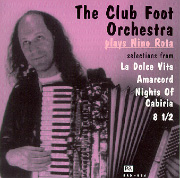 CLUB FOOT ORCHESTRA: Plays Nino Rota - Selections from LaDolce Vita, Amarcord, Nights of Cabiria, 8 1/2
Sheldon Brown: winds
Peter Josheff: clarinets
Nik Phelps: winds
Myles Boisen: bass, sonics, etc
J. Raoul Brody: keys and accordion
Matthew Brubeck: 'cello, bass
Catharine Clune: vln
Chris Grady: trumpet
Jim Kassis: drums
Elliot Kavee: drums
Steve Kirk: guitar
Tom Yoder: trombone
The masters of the silent film soundtrack take on Nino Rota's classic film music to four films by the great Italian director Fellini. Painstakingly arranged by the members of the Club Foot Orchestra, the pieces were recorded on vintage analog gear after a full year of honing the music to perfection in the swanky San Francisco supper club, Bruno's. Favorites among the 13 tracks on this CD are Notalgico Swing 1 & 2 and L'Illusionista (from 8 1/2), La Dolce Vita Via Veneto (from La Dolce Vita) and Winter Fireworks (from Amarcord). This package showcases both Nino Rota's work as one the finest popular film composers as well as Club Foot Orchestra's imaginative and unique musical stylings. Total Time: 60 minutes.
"decadent aristocrats, sadistic clowns, flowery young boys and buxom Italian starlets: Who else but Italian composer Nino Rota was equipped to complement the fantastic images of Fellini?" --SF Weekly
More information about Club Foot Orchestra is available at http://www.clubfoot.com.